DME's Cooling Solutions provides greater thermal control for today's molding industry. Optimal heat and cooling is key to the economics and quality of a plastic part. DME cooling solutions include 3D Printing, Flow Control, Optimized Design, Cooling Channel Maintentnace, and Industry 4.0 Technologies.
Increase profit by optimizing your tool with DME's 5-Step Advanced Cooling Program.

Higher Production Output of Quality Parts
DESIGN OPTIMIZATION: often the last step in the mold design process, cooling is often sub-optimized and as a result plastic part production can be plagued with unnecessary long cycle times and high scrap rates. DME offers design services and a portfolio of mold technology products that can used by the designer to gain optimal design performance design and use cooling technologies enabling cycle times to be reduced on average 20%, and hence boosting the productivity of any molding operations
PROCESSING OPTIMIZATION: optimal operating performance of the mold requires the molder to carefully control the temperature and turbulence of the water flow. This ensures heat of the molten resin is efficiently and evenly transferred from the surface of the mold cavity. This becomes even more challenging the longer the mold runs as the cooling channels in the mold deteriorate through corrosion and the build-up of scale. DME provides a turnkey solution to maximize the molders manufacturing output ….increasing the profitability of the operatio
TIME - Your Most Valuable Commodity
Time = Money – Reducing cycle time while maintaining or improving part quality delivers bottom-line results.

Using our 5-Step Process to Cooling you may be able to reduce the number of presses and possibly even tools required to produce your parts as the reduced cycle times will free up capacity. Furthermore, by reducing problems associated with insufficient cooling, often accentuated with the use of specific polymer types, you will be able to save unwanted scrap and unscheduled down-time.

Maximize Efficeincy with DME's vast array of thermal management products and technologies, all combined in our 5-Step Cooling Program.

With adavanced design, cooling channel location, proper flow / turbulence control, and maintaining continuous lifecycle performance through aftermarket parts and services; DME can help you maximize profitability over the lifecycle of the tool.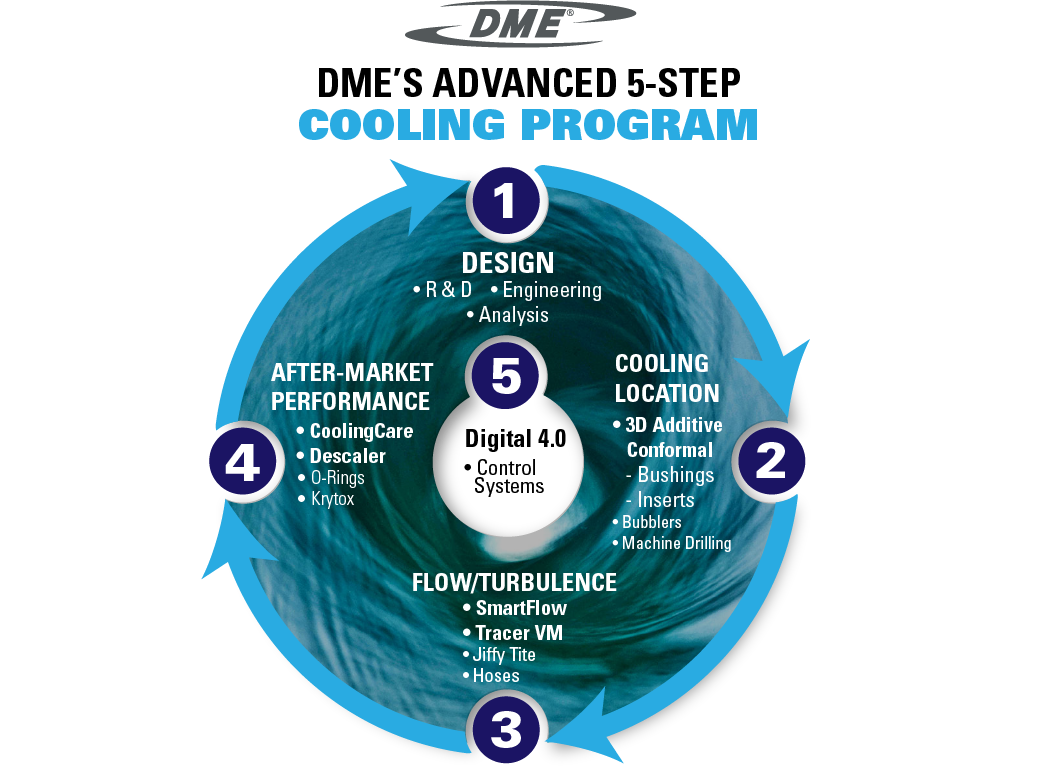 Maximized Efficeincy = Maximum Output – The DME 5-Step Cooling Program reduces cycle time and minimizes scrap maintain the highest level production.


CASE STUDY IN SAVINGS:
Soup bowl required three tools running in three presses to produce 125 million parts per year. New orders pushed demand to 175 million parts per year. Attempts to simply increase output by reducing cycle time failed, increasing scrap to unacceptable levels due to warping. The only solution appeared to be the purchase of two new molds and the adding of two new presses to the facility, a very expensive proposition.
Presented with this challenge, the DME Engineering Team , using DMEs expertise in Mold Flow and FEM, identified a different approach. By deploying DME's TruCool Conformal Cooling inserts, using the latest in 3D additive technology, the molder client was able to boost output by 35% while reducing historical scrap rates. The result; no additional investment was required and the extra 50 million parts were shipped on time.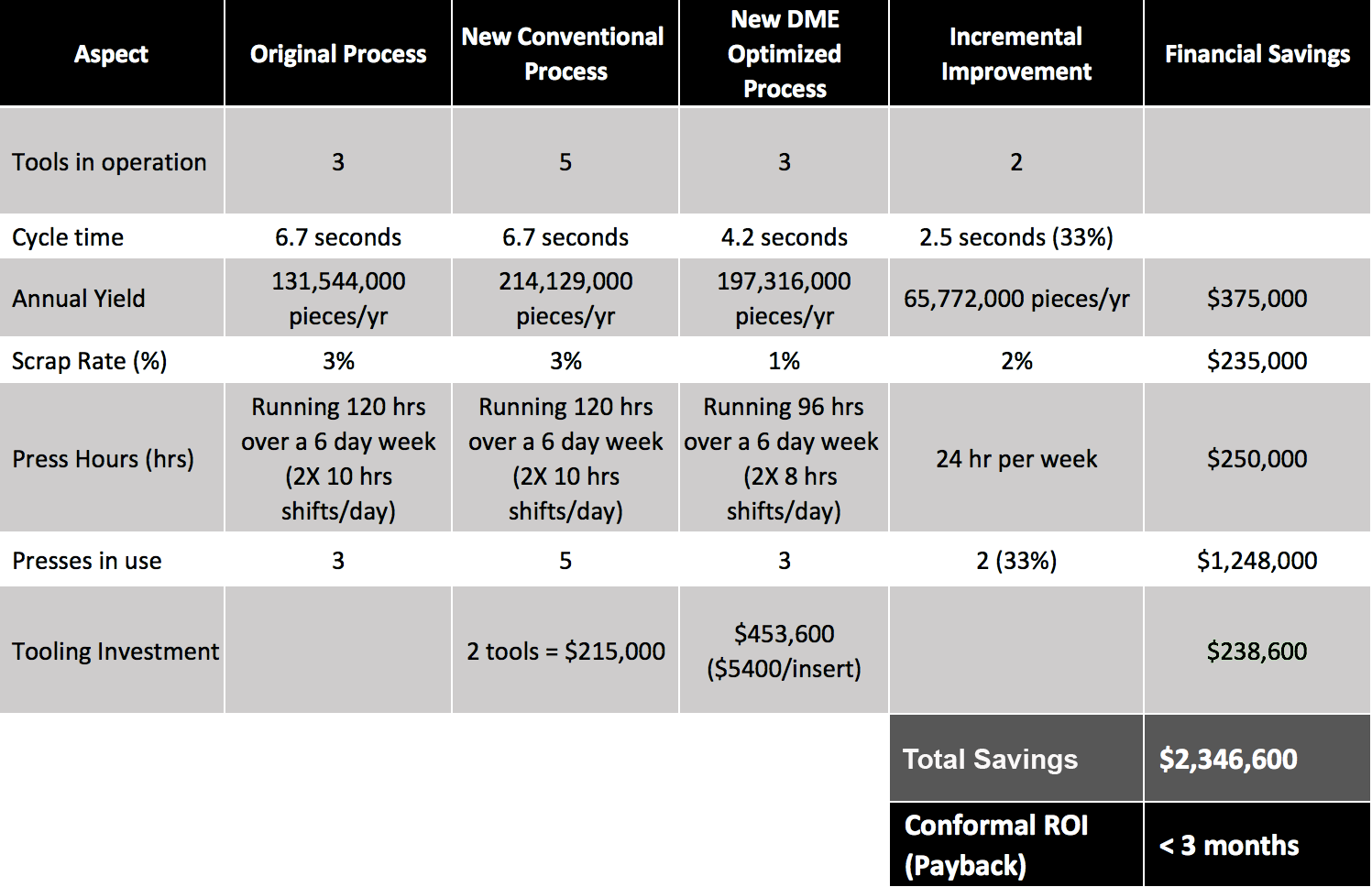 DME Cooling Solution & Cycle Time Advantage
When a mold is going through the design process (Packing, Filling, Mold Action & Cooling), the cooling portion is usually the last part designed. It is also one of the best areas to reduce cycle time.
Many times the cooling suffers and is not as efficient as possible. Molds that run non-optimized cooling systems are often plagued with long cycle times and high scrap rate and a large amount of productivity is lost due to this.
By utilizing DME's Cooling Solutions , the cycle time can be reduced on average 19-20% which increases mold productivity, lowers scrap rate and resin waste.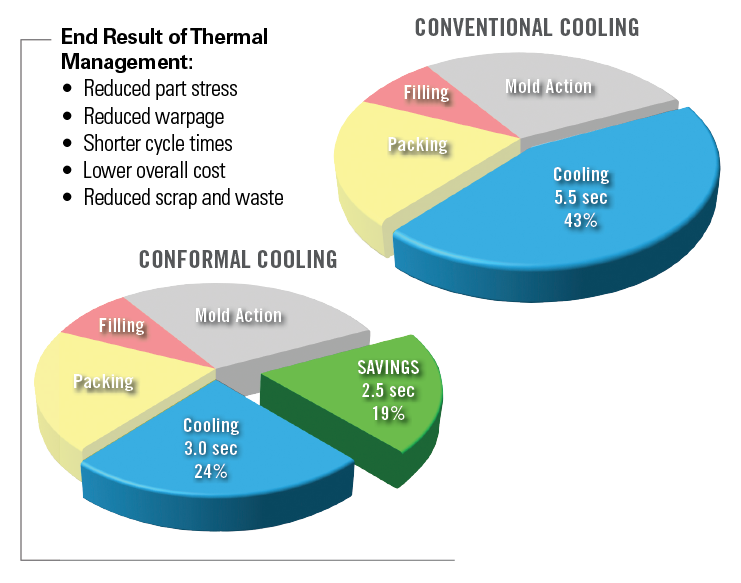 All your engineering and design work that has previously taken place can be a waste if the water channels are not optimized with ideal flow and turbulence.
Water flowing straight through a channel without turbulence is considered laminar flow. This does not allow water to be circulated or stirred up within the channel. Water traveling along the wall of the cooling channel then absorbs heat and increases in temperature but it is not carried away as needed. Changing direction in a channel as well as using techniques and flow regulators to stir it up creates turbulent flow and allows water in the cooler core of the channel to be exchanged with water that has absorbed heat from the mold. A low Reynolds value means laminar flow while a high Reynolds number means turbulent flow.
In contrast, you can increase too much turbulence which will exponentially require greater energy to push the coolant where minimal gain is achieved. Ideally you want to hit the sweet spot with a Reynolds value between 4K and 8K and DME's smartflow system will ensure you are achieving precise turbulence in your channel system.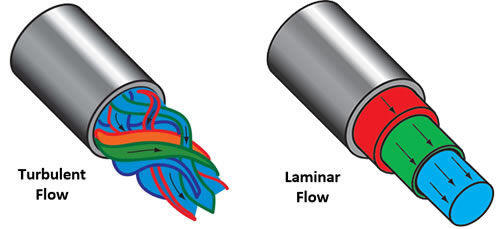 The Importance of Proximity
When conventional channels are unable to reach into certain areas, residual heat builds up and often times the cycle time is dependent on those hot areas in a mold. By adding conformal cooling where needed, we can bring cooling to difficult to reach areas to reduce the temperature delta across the part at the point of ejection.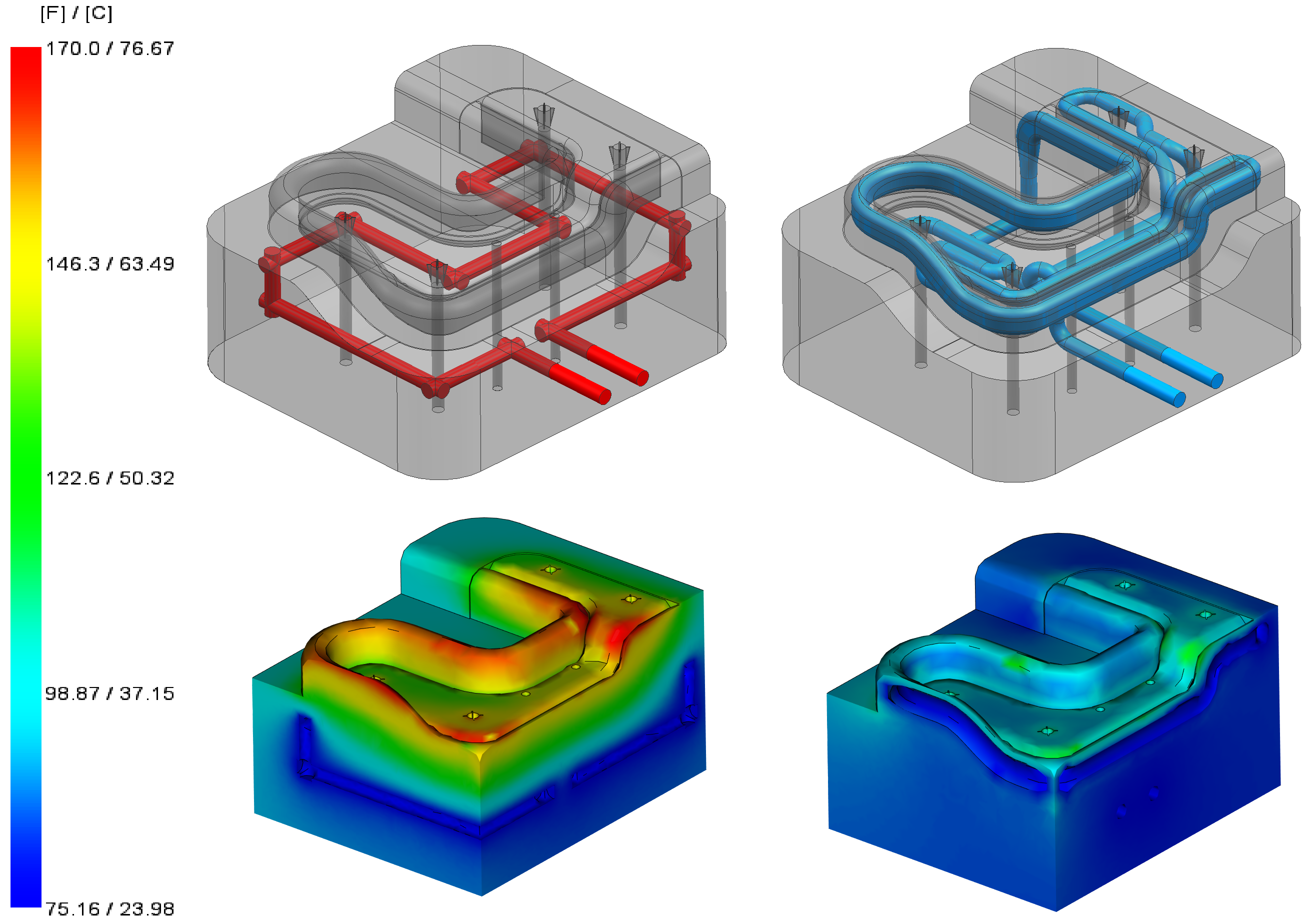 Brand recognition is critical in todays market and lens molds are no exception. Many times a mold will have blemish through splay or blush at the gate. By adding optimized cooling through gate bushings, you can gain much greater control of the valve gate to reduce or even eliminate blemish in these high quality lenses on the market today.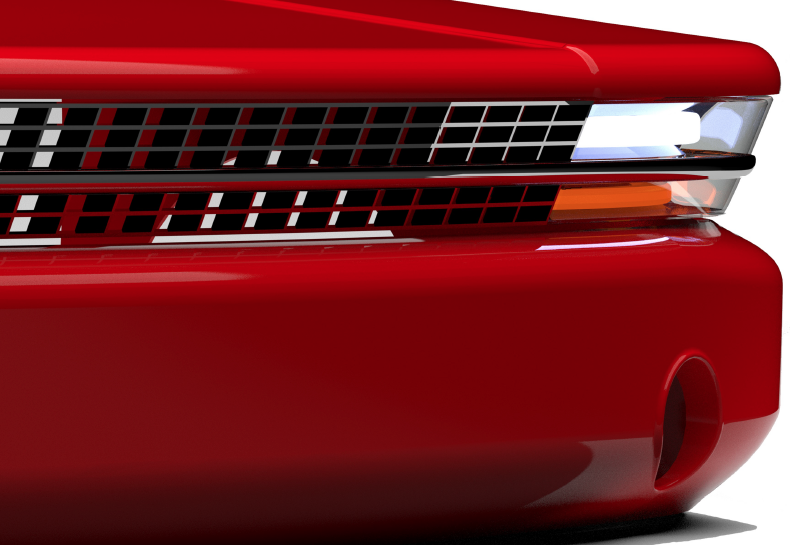 Hot Runner Service & Repair
Controller Repair & Calibration
Barrel Repair & Resleeving
USA: 800.626.6653
Canada: 800.387.6600
Mexico: 442-.713.5666
Europe: 32.15-.215011
Asia: (86-775) 8601.9031